A new record.
A modest tour.

The record is a live one.
A two disc set, a "record" of
one night of music from
the 2000 European tour.
From the liner notes:

"This is a record of one night of music
in a small club called Alte Mälzerei
in Regensburg, Germany, before a
small crowd of about 50 fans. We had
a lot of tapes of different shows from
the tour, but we were taken with the
idea of offering up a single
performance, whole, unadulterated
and unsweetened. Here it is,
rather lo-fi, having been recorded
on a cassette with a cheap Aiwa deck
through the board. Anyone who knows
anything about it will tell you that this
is not the most audiophile method of
capturing a band live. (At least it was
a high bias cassette.) Call this as
an "official bootleg".
We did do some equalization
and took out some obsessive
guitar tuning and the odd bit of
stage squawking."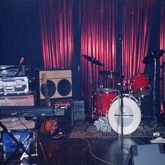 A short tour begins
in Cambridge, Mass
on June 3rd, the day
after the record's release.
The band will be touring
with Laura Cantrell for these
two weeks. The Schramms
will play a set and then
back up Ms. Cantrell
for her set - double duty,
double drink tickets.
Here's the schedule:
6/3 - Cambridge, MA - House Of Blues
6/4 - Northampton, MA - Pearl St.
6/5 - Buffalo, NY - Continental
6/6 - Cleveland, OH - Beachland Tavern
6/7 - Chicago, IL - Schubas
6/9 - St. Louis, MO - Off Broadway
6/10 - Bloomington, IN - Bluebird
6/11- Ann Arbor, MI - The Ark
6/12 - Newport, KY, Southgate House
6/13 - Columbus, OH - The Factory
6/14 - Pittsburgh, PA - Club Café

The tour promises to be
fraught with conflict as
Jeremy "Flying J" Tepper's
taste for truck stop buffets
and BBQ clashes with
Al "Pass the Cole Slaw" Greller's
vegetarian palette.
Culinary chaos ensues.
Perhaps a Cracker Barrel?

The Goal here is to
finally see the
Thomas Hart Benton murals
whilst in Bloomington
this time, having missed
many opportunities
in the past.
It may also be a chance
to take that tour
of E. Dickinson's home,
since last time we were
in Amherst a crowd of
like 40 Japanese tourists
were getting the private
perusal. To think that
E. Dickinson is known
and perhaps appreciated
in Japan! How cool is that?
Wonder how
"I cautious scanned my little life..."
translates......

- Dave